How To Get Thicker Eyebrows And Eyelashes Naturally?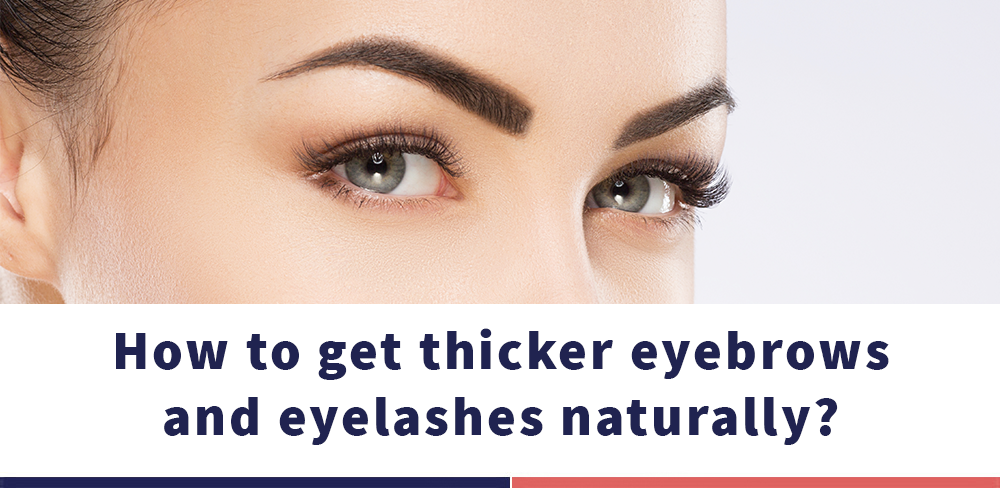 More and more women of all ages are trying to follow the trend of the moment: thick and well-designed eyebrows. Everyone likes to have long, healthy, and thick lashes with well-defined brows. You can use different remedies to increase the volume of the eyebrows and eyelashes. To achieve regrowth of the eyebrows and get thicker eyelashes you can use some natural remedies that are easy to put into practice even at home.
-Castor oil: Castor oil has protective properties and makes your eyebrows and eyelashes healthy, strong, and fuller. It is the quickest remedy to improve hair growth and can get you results much sooner than any other ingredient. Apply it gently on the lashes and eyebrows every night with the help of a cotton tip to get greater nourishment and faster regrowth.
-Aloe Vera: Aloe vera in the form of a gel favors the regrowth of the eyebrows as it contains enzymes that have the power to stimulate the hair bulbs. Apply some aloe vera gel onto your eyebrows and eyelashes and leave it to dry. After about 5 minutes, you can wash it off with water. Make sure that you keep your eyes closed while applying the gel as your eyes may be sensitive towards it.
-Egg Yolk: The hair of the eyebrows is made up of keratin protein, and egg is a great source of protein. It makes your eyebrows thick. Apply a small amount of egg yolk to your eyebrows and eyelashes and let it sit for 15 to 20 minutes and then wash it off.
-Onion Juice: Onion juice has sulfur that improves the production of collagen tissues required for proper eyebrow growth. Grind one small onion and extract the juice. Massage this juice into your eyebrows for 5 minutes. When it dries, wash it off using a mild cleanser. Attention: Do not apply onion juice to your eyelashes as this can result in a burning sensation in your eyes.
-Moisturise your eyebrows: Other than applying oil every night you can also apply petroleum jelly to moisturize the skin under your brows. Apply this every day before going to bed.
-Say goodbye to tweezers
-Brush your eyebrows and eyelashes every day
- Pay attention to your nutrition and stay away from stress
Eyebrow and Eyelash Growth Products
Eyelash and eyebrow serums offer a safe and one-stop solution to boost the growth of weak, thin, and sparse lashes and eyebrows. These types of products are mostly serums consisting of keratin and biotin that act directly on the follicle, stimulating the resumption of normal production activity.
Thanks to its special and powerful formulation, Turkeyana Plus Eyebrow and Eyelash Serum feeds the eyebrows and eyelashes. It is effective in strengthening and nourishing your eyebrow and eyelash structure and creates healthier eyebrows and eyelashes. It includes Biotin, Cashmere Keratin, and Malus Domestica Fruit Cell Culture Extract.
Malus Domestica Fruit Cell Culture Extract: It is an almost extinct apple variety in Switzerland that can heal itself and lasts longer than other varieties. It helps in the formation of new cells, increased cell viability, long-term preservation of cells, delaying the basic cell aging, and speeding up the repair process.
Biotin helps nourish the eyebrow hair follicles and helps to increase the thickness of the eyebrows and eyelashes and give them a fuller appearance.
Cashmere Keratin helps to restore hair's vitality by extending the life cycle of the hair and stimulate hair follicles and increase cell viability.