ALL YOU MAY WONDER ABOUT HAIR TRANSPLANTATION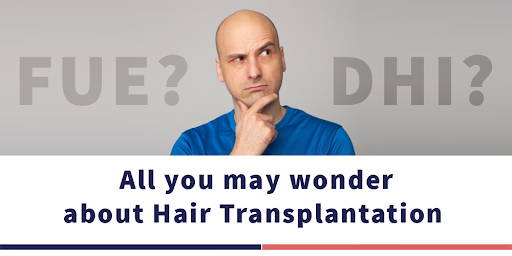 Getting your hair back is easier than always now! The miracle of the latest technology, Hair Transplantation is giving us the most beautiful opportunity about the hair loss problem. The transplantation operation is a non-surgical procedure, in which hair follicles are transferred from the donor area to the receiving area to be treated.
So, what are the DHI and FUE techniques? What are the differences between them? Let's learn...
Direct Hair Transplant or briefly (DHI) technique is considered relatively the latest technology that has come into the medical cosmetic world, proving its ability to be an effective solution for hair loss. DHI is a non-surgical method by which the doctor can open channels and implant the hair follicles in the bald area (recipient area) simultaneously with a device known as "Choi Pen". At Turkeyana we offer DHI, Mega DHI and Extremely DHI as three options of the DHI techniques. They have almost the same ways but also have little differences like the grafts and session numbers.
FUE is an abbreviation for the Follicles Unit Extraction technique, which is considered one of the most powerful methods in hair transplantation that ensures a high density of hair. It's based on implanting the hair grafts harvested from the back of the scalp(the donor area) in the baldness area(the received area) by opening channels manually with a specific depth and direction, using micro medical blades. Turkeyana uses the following types of FUE techniques: FUE, Mega FUE, Ultimate FUE.
After all these procedures, you need to continue with your hair care. Our experts offer you multiple hair treatments for the rapid healing and repair of your surgical scars. Turkeyana Plus Hair Repair Sets, which contain multivitamins, serums and lotions, are ready to prevent the negative aspects of the problem of hair loss. It provides holistic treatment and multiple effects, protects the damaged area against external factors, reduces the risk of infection, provides antihistamine effect and rapid recovery.
As a result, Hair Transplantation aims to improve your appearance and self-esteem by covering your baldness with 100% natural lifetime results. We use the latest medical technologies which include 3 basic steps; transplant operation after completing the medical tests, having a beautiful journey in Istanbul and last clean touches to get ready to go home!
Would you like to experience this valuable process and get back your hair?
Well, you know where to find us...