7 Mistakes That Could Cause Your Weak Hair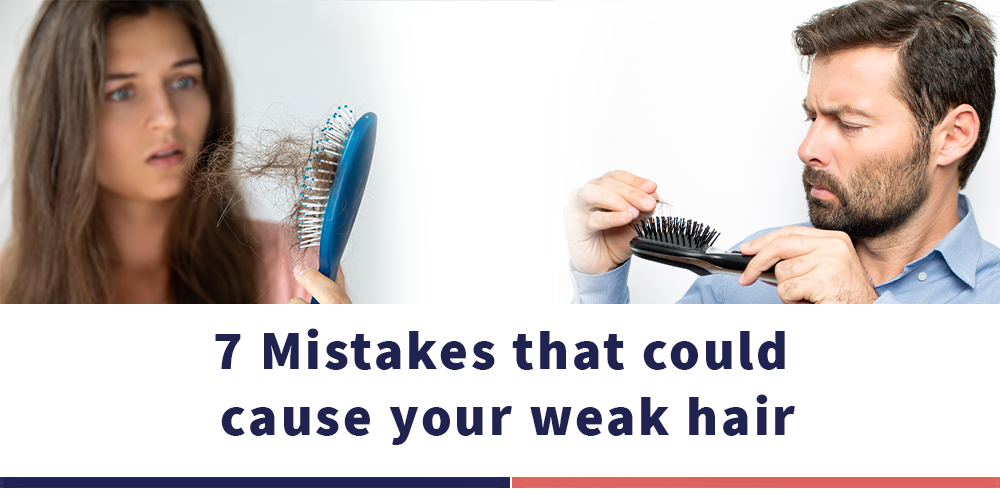 Weak hair can be difficult to manage. Most of us believe that we are aware of our hair's needs and sometimes we think that just washing our hair regularly is enough. But caring for your hair is more than just washing. Even with washing, it is effective only when done right!
Here are the most common mistakes that people make with their hair care practice! Make a note, correct them and you will see differences!
1-Tying hair tightly when wet
The tighter your style and the more often you wear it, the more damage that can occur. Be especially careful tying your hair up when it's wet. Wet hair is even more fragile and will break more easily.
2-Using too much hair oil
Hair oil can make your hair feel powerful and shiny, but it's not recommended for individuals with thin hair. It can make your hair be heavy and lead to the strands becoming flat and stuck to the scalp.
3-Changing hair color frequently
Coloring hair often gives the hair a more aesthetic appearance. In addition, you should not forget that by coloring your hair with chemicals, you damage its structure. Further, the chemicals may lead to a range of allergic reactions, such as dermatitis of the eyes, ears, scalp, and face.
4-Not using a conditioner or serum
If you're avoiding using conditioner at all costs for fear that your hair will become too flat, think again. Just like your face, your scalp needs moisture too. Another way to combat dry and damaged hair is to moisturize them.
As a suggestion, you can check our Turkeyana Plus Hair Care Serum to avoid having dry hair.
5-Overwashing your hair
If your hair is thin and fragile, it's best to avoid washing it every day. The consistency of washing your hair daily can thin and dry it, making it extremely brittle. Dry shampoo is a great supplement in between washes to avoid breakage.
6-Not taking multivitamins
One of the most important ways that you can affect the quality of your hair is to use multivitamins. Thanks to them, you can help your hair grow and prevent hair loss. You can either eat more fruits and vegetables or bet on hair vitamins in pills.
As a suggestion, you can check our Turkeyana Plus Food Supplement Multi-Vitamins.
7-Avoiding haircuts
The simple and the best way to get healthy, strong, and beautiful hair is to get a haircut regularly. Getting a haircut or a simple hair trim every six to eight weeks can prevent the hair cuticles from damaging, splitting, and breaking.