6 Tips To Moisturize Your Hair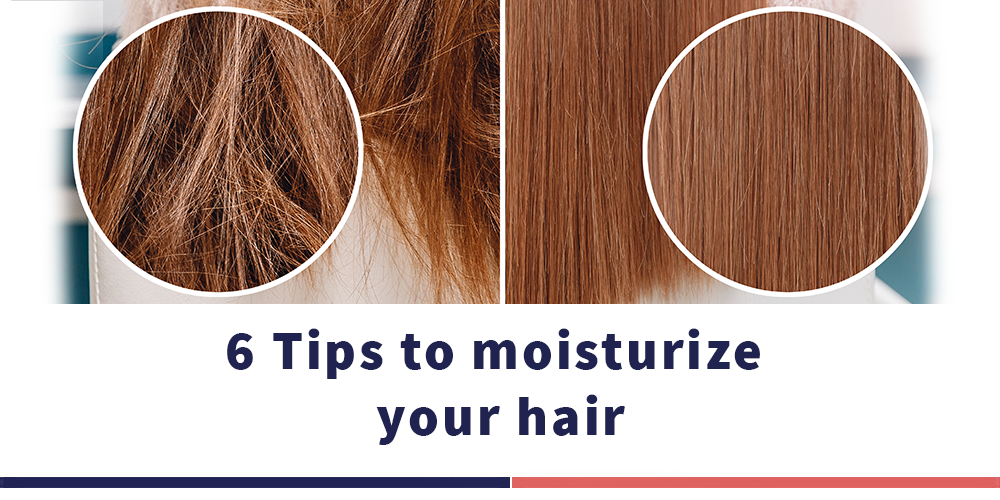 Generally, dry hair occurs when there is no natural production of natural oils to keep the hair hydrated. For many people, it is genetics, while others are more subject to the reaction to the stress of various kinds such as aging, smog, or a wrong hair-care routine.
Dry hair loses its shine. In addition, while washing with shampoo, it gets tangled and becomes difficult to comb. Cuticles rise, knots form, and the light does not have the right refraction. Let's have a look at the tips to deeply hydrate your dry hair without ruining it:
• Choose a shampoo designed for dry hair
Choosing a shampoo specifically designed for dry hair is a great way to help hydrate it.
• Wash your hair with the right frequency
If your hair tends to be dry it is best not to wash it daily. Take a few days to give your scalp the chance to replenish your hair and its natural emollients.
• Avoid extreme weather conditions
Where possible, try to protect your hair. Avoid extreme weather conditions like too much sun or wind, which can lead to drier and more brittle hair. To hydrate your hair when you are at the beach, for example, apply for UV protection and wear a cute hat to avoid strong exposure.
• Cut your hair often
Cutting your hair helps to have hair that is always healthy and in shape. Those with long hair see the hairdresser's scissors as if they were the devil. To exorcise this fear, know that it is not necessary to cut them very short every time. A few centimeters are enough, every two months, to have healthy, strong, and beautiful hair over time.
• Don't brush your hair too often
Brushing your hair frequently can increase frizz and may even damage hair.
• Enjoy the benefits of natural oils
Argan oil is rich in fatty acids and vitamins, especially vitamin A and vitamin E. However, the oil must be 100% pure, to get the most out of this precious oil for our hair. Almond oil is one of the most used vegetable oils in cosmetics and has a nourishing action on dry, dull, and brittle hair, also preventing split ends. It also soothes itching in the case of a sensitive scalp.
Coconut oil is ideal for dry and damaged hair as it helps to hydrate and nourish them, giving new light and softness to our hair, and also preventing the appearance of split ends. It soothes the sensitive scalp and also has antibacterial and antifungal properties. The presence of vitamin E, on the other hand, makes it an excellent natural hair reinforcer.
Flaxseed oil contains linoleic acid which deeply hydrates the hair and helps prevent split ends. It is also effective in the case of dandruff, as it regulates the production of sebum.
Pumpkin seed oil is an excellent remedy for strengthening weak, brittle, and falling-out hair.
Sesame oil is very beneficial for the hair, thanks above all to the presence of fatty acids such as linoleic acid and oleic acid, in addition to Omega 3 and Omega 6, which make it a highly antioxidant product: it regenerates and repairs the hair, giving shine.
Turkeyana Plus Moisturizer Repair Lotion provides faster and more effective results than using one of these natural oils. Let Turkeyana Plus Moisturizer Repair Lotion pamper your hair.